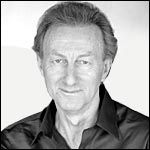 Dr. Luc De Schepper, MD, DI Hom., CHom., Lic.Ac, was one of the first "integrated" Physicians as a Western medical doctor, and is considered one of the foremost contemporary Homeopaths and renowned international lecturers in Classical Homeopathy in the world. He is the author of fifteen books on homeopathy, acupuncture, and holistic health care.
Dr. Luc retired from his practice on June 6th, 2009 and officially transferred his practice to Farah Gron, C.Hom. She is the only student that observed Dr. Luc in practice for 5 weeks and had direct supervision by him for 20 months during the transition of practice.

To contact Farah please go to her website www.NewLifeHomeopathy.com, call 617-527-5100, or email her at farahgron@yahoo.com.

Here is a comment by Dr. Luc about Farah:

"Farah Gron, C.Hom has studied with me for the last 12 years and has proven to me not only to be the brightest among all of my students, but also the person who values compassion and love for humanity as much as I do."